Behind for retirement? How veterans can get on-track (Part 1)
A new report that examines the unique financial planning needs, concerns and opportunities of the U.S. veteran community has identified shared characteristics of veterans who are financially prepared. While some of these attributes depend on early financial habits, veterans who are financially behind in saving for retirement can take key actions now to change their financial futures.
This first article of a two-part series takes a look at the first 3 recommendations for veterans who are behind in their financial plans. The second article will discuss an additional 3 recommendations.
The Veterans Financial Preparedness Report 2019, prepared by the Legionnaire Insurance Trust for the departments of The American Legion in honor of the Legion's 100th anniversary, found that more than one-half of veterans say they are behind in saving for retirement.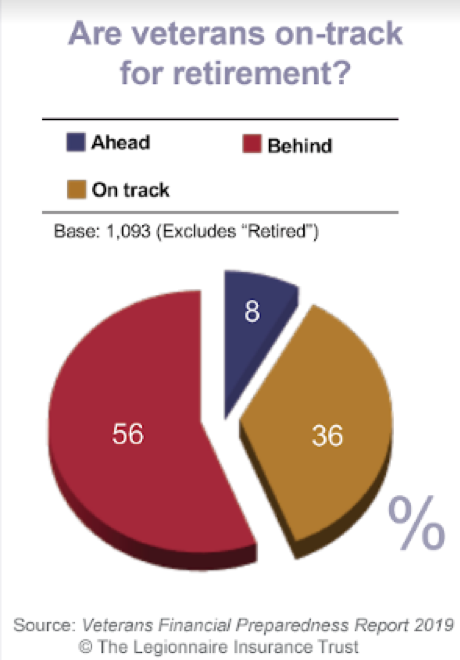 As part of the report, 1,507 veterans shared their advice for preparedness, and a financial professional with 16 years of military service offered his insights. If you are behind, consider these recommendations:
1.    Work with a professional financial advisor.
Veteran advice: "Talk with someone … that can help you understand what you can and need to do with your individual financial situation."
Only 13% of veterans who are behind in saving for retirement work with a professional financial advisor, according to the report. But working with an advisor can bring a lot of benefits. 75% of veterans who are ahead in saving for retirement have an advisor, and 79% of veterans who work with an advisor say they are confident they are making the best financial decisions for their families.
A common misperception is that you need to have a lot of money to justify hiring a financial advisor. If you are behind, it may even seem like a waste of your limited resources. But the reality is that an advisor is especially important to get on-track, according to Chief Warrant Officer of the Army Reserve Russell Simmons, MBA, CERTIFIED FINANCIAL PLANNER™. Simmons donated his expertise to the report.
"Financial advisors can help you navigate through any specific situation," Simmons said. "They can help you work toward retirement, provide risk management, insurance, estate planning and other specific guidance to achieve financial preparedness."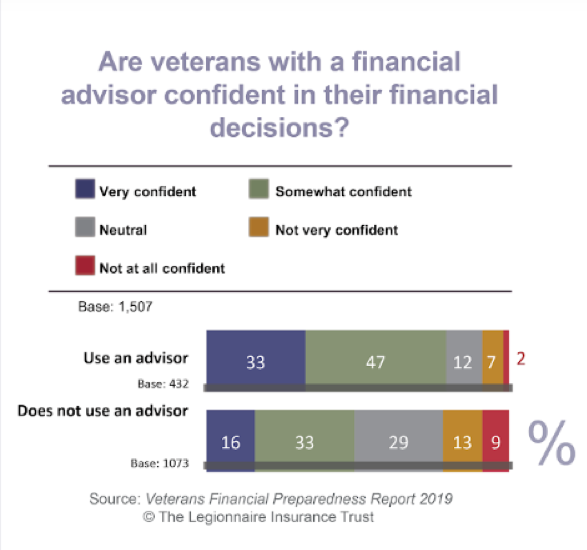 If you think you might not be able to afford an advisor, Simmons recommends starting with the Foundation for Financial Planning, which offers free no-obligation one-on-one meetings, among other resources. 
2.    Create a financial plan specific to you.
Veteran advice: "Have a written financial plan."
Unfortunately, some people find themselves falling further and further behind because they don't have all the basic building blocks in place for financial health.
"That's where it all starts—with the financial plan, so you can build those opportunities and identify what needs to be done," Simmons said. The good news is it's never too late to start.
"A financial plan should include what retirement looks like for you," Simmons said. "It helps encompass your financial situation to achieve goals and income needs during retirement. It should outline things like how you will invest, insurance, and whether you will be receiving a pension or disability check."
A financial advisor can help create a tailored plan for your unique circumstances and goals. Such a plan should include what kinds of investment instruments are best to have in your retirement portfolio.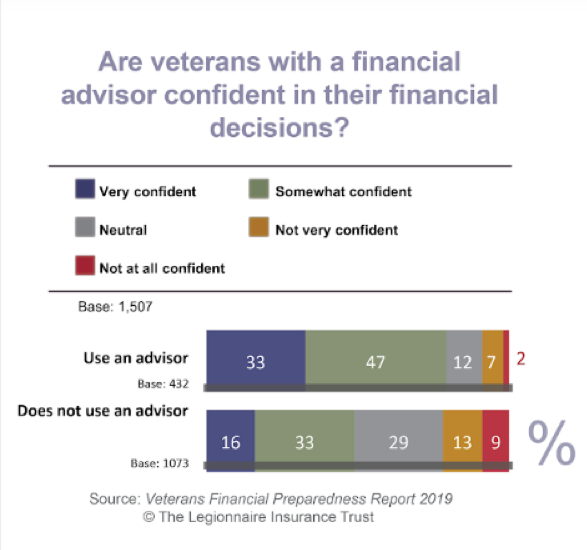 3.    Take advantage of catch-up options. 
Veteran advice: "Budget well, and take advantage of any and every benefit you qualify for."
60% of veterans who are ahead for retirement started saving immediately after high school or within the first 2 years of joining the military. While you may not be able to go back to start saving early, you can make changes to save more aggressively as you get on-track.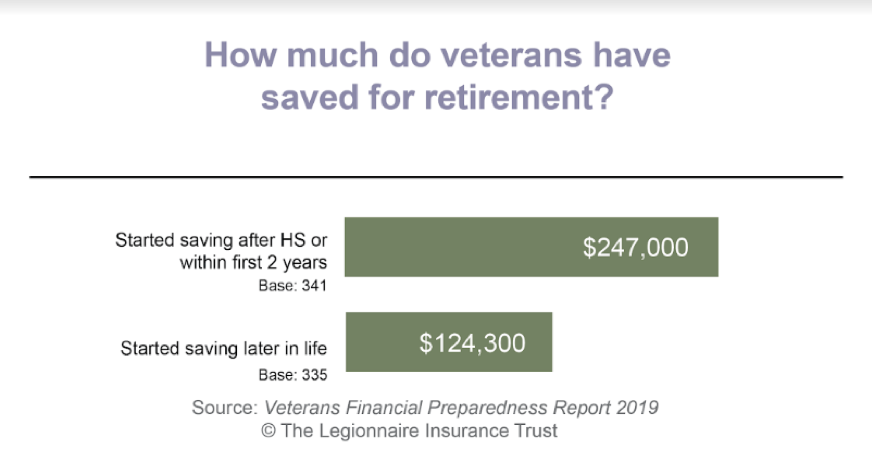 "There are instruments in place even if you feel like you started later than you wanted to," Simmons said. "It's never too late to start saving. There are catch-up instruments for those over 50. You can contribute additional money and help get to your goals quicker."
If needed, you can also take more drastic steps, such as downsizing your home so you have a lower mortgage to pay. As a number of veterans shared in their advice for the report, it's important to make sacrifices for your future, live within your means and avoid debt.
"That's why a financial planner is important," Simmons said. "They will set you on that path to success, no matter your age."
If you're ready to learn more …
Read Part 2 of this two-part series to learn the next 3 recommended actions for how veterans who are behind in saving for retirement can get on-track.
Additional insights for the veteran community also are available in the Veterans Financial Preparedness Report 2019 as you get your financial preparations on-track for a secure retirement.