Behind for retirement? How veterans can get on-track (Part 2)
U.S. veterans who are financially prepared share a set of 5 attributes, many of them habits developed early on. But if you are among the more than one-half of veterans who say they are behind in saving for retirement, you can take key actions to change the outlook of your financial future.
This second article of a two-part series examines 3 recommendations for veterans who are behind in their financial plans. Part 1 of this series looks at the first 3 of this set of 6 recommendations.
The Veterans Financial Preparedness Report 2019, prepared by the Legionnaire Insurance Trust for the d of The American Legion in honor of the Legion's 100th anniversary, surveyed 1,507 veterans and identified what makes veterans financially prepared. Along with the report's findings are advice from veteran participants and insights from a financial professional with 16 years of military service.
If you are behind in saving for retirement, the first three recommendations are: (1) work with a professional financial advisor; (2) create a financial plan specific to you; and (3) take advantage of catch-up options. Following are the next three recommendations to consider:
4.    Protect yourself with an emergency fund and insurance.
Veteran advice: "Be prepared for the unexpected."
If you're behind, it's especially important to ensure your family is protected against emergencies and other unplanned circumstances, so you don't drain your retirement savings. This protection should include an emergency fund, sufficient life insurance coverage and provisions for long-term health care needs.
93% of veterans who are ahead have an emergency fund, compared to just 32% of those who are behind, according to the report. Most veterans who are ahead keep at least $10,000 in their emergency fund. That's because experts advise that you should put aside enough money to cover your expenses for 3-6 months. If your family has just one income, you should aim to keep 6 months' worth of expenses in your fund. Then if you have a period of unemployment, short-term disability or major medical expenses, you'll be less likely to need to compromise your financial plan.
Similarly, veterans who are ahead know the importance of safeguarding their families with life insurance. 75% of those who are ahead have life insurance, compared to just 44% of those who are behind. Veterans with life insurance also are much more likely to say they are confident they are making the best financial decisions for their families.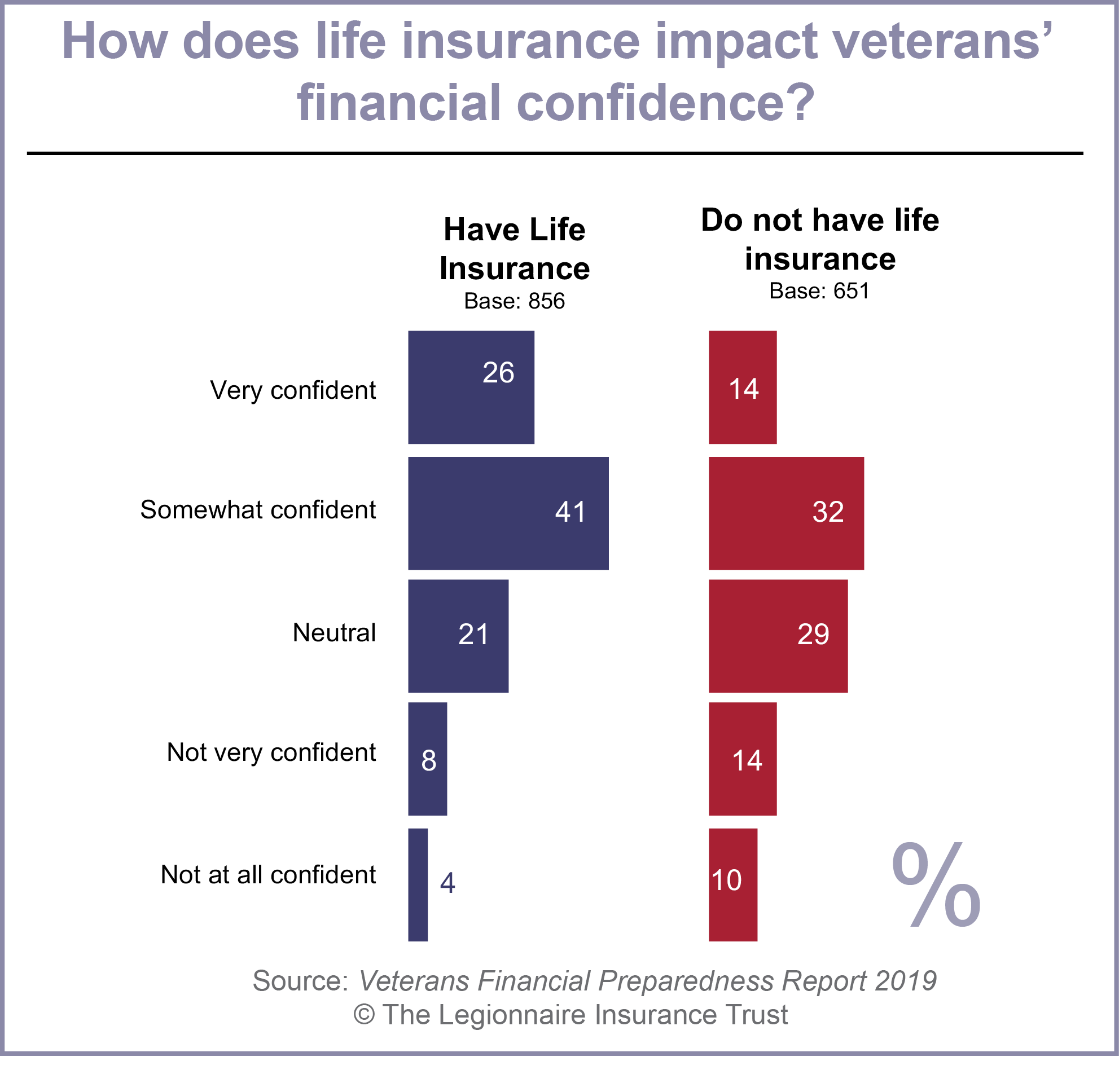 Paying for long-term health care also is one of veterans' top financial concerns.
"People realize that long-term care could be a large expense, especially if you have some ongoing health concerns and don't feel comfortable with where you are for retirement," said Chief Warrant Officer of the Army Reserve Russell Simmons, MBA, CERTIFIED FINANCIAL PLANNER™. "Generally speaking, you should start exploring long-term care options in your 50s. Otherwise, you need to be looking into those expenses and incorporating them into your financial plan and savings. You need a risk-management tactic to ensure you are successful."
5.    Spend time on frequent retirement planning.
Once you've started tackling all these actions, don't think of them as one-time activities. Staying on-track means frequent review and adjustments to your plans.
50% of veterans who are ahead report spending time at least once a month on retirement planning activities, such as investments, insurance, taxes and working with a financial advisor. Those who are behind are most likely to say they only spend time on retirement planning when the need arises.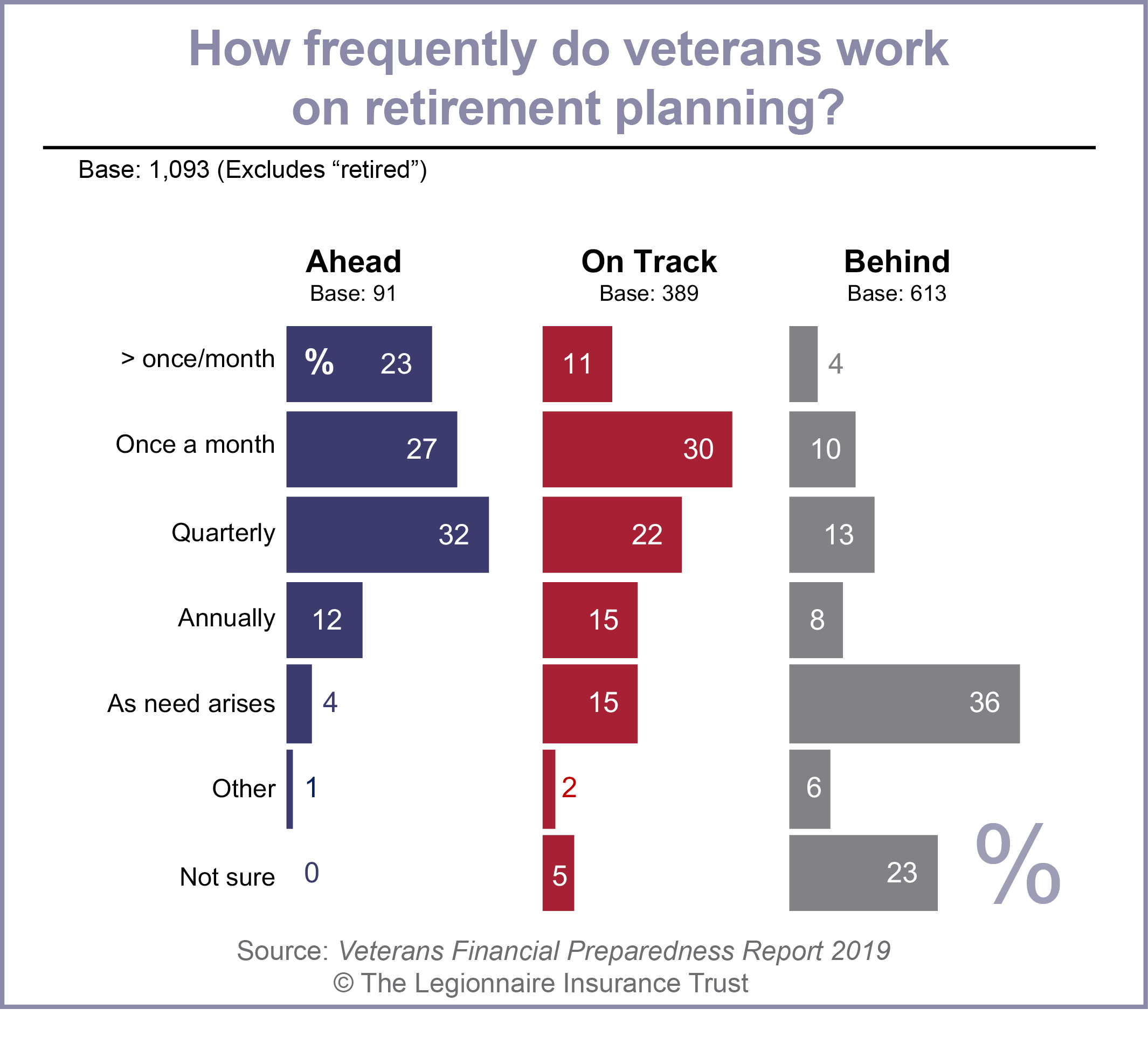 You should include updating your financial plan among your regular planning activities, at minimum once a year. Simmons said it's also important to revisit your plan whenever you have a life change, such as a job change, move, marriage, divorce, birth of a child or death in the family.
6.    Educate yourself and access available resources.
Veteran advice: "The American Legion, Disabled American Veterans, Veterans of Foreign War, AMVets, the VA and other organizations are standing by—reach out to them. Your military experience never ends."
Knowledge of personal financial issues and financial preparedness go hand-in-hand. The report found that 91% of veterans who are ahead consider themselves to be knowledgeable, while 75% of those who say they are not knowledgeable also say they're behind on saving.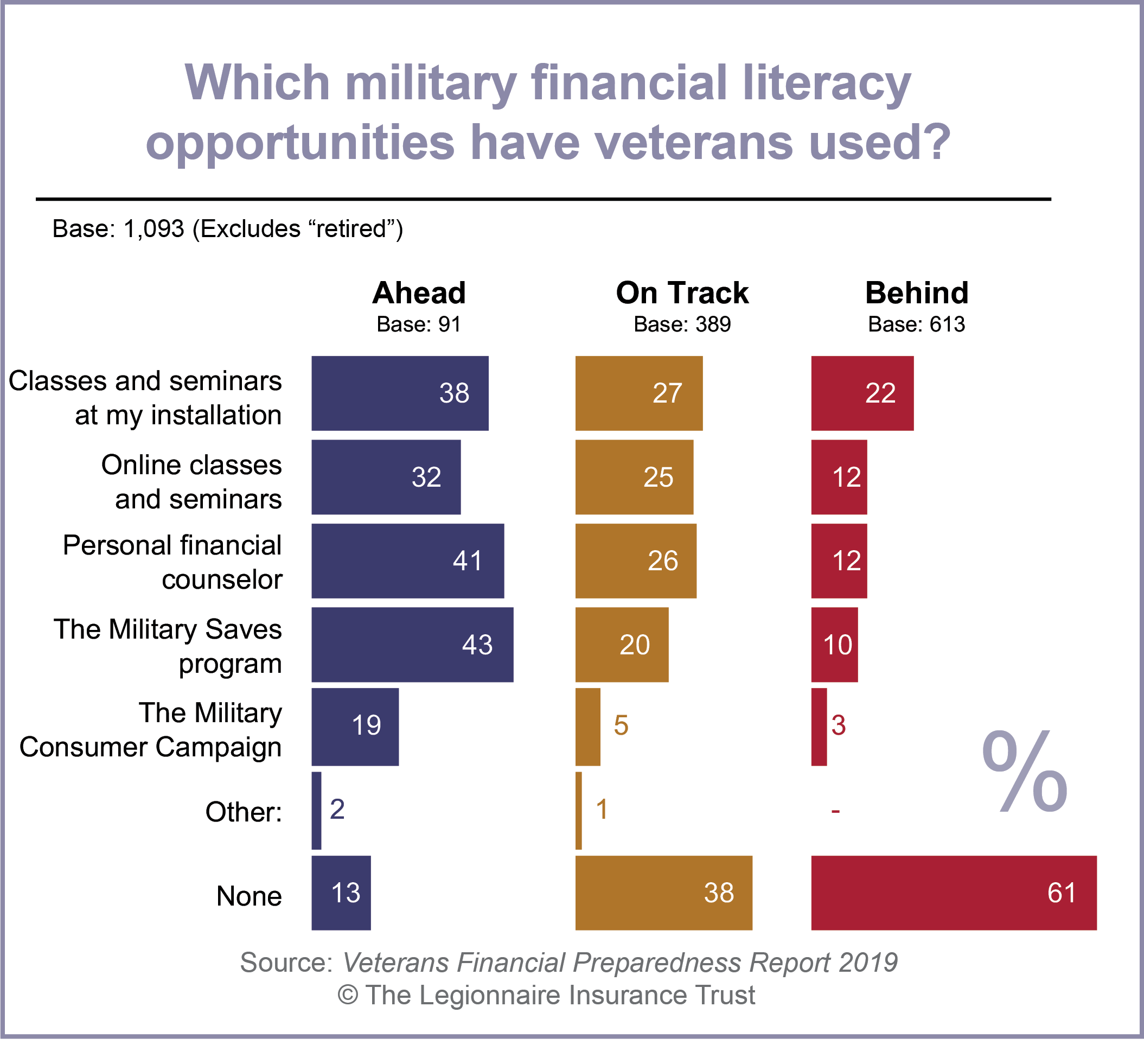 A great way to build your knowledge is to take advantage of resources that are available to veterans.
Among the resources Simmons recommends are the Financial Planning Association Pro Bono Day events and free activities offered through the Foundation for Financial Planning. In addition to free one-on-one meetings with financial advisors, the Foundation for Financial Planning offers resources to help veterans understand financial topics, such as long-term health care expenses. They also give financial planning and literacy seminars.
Many other governmental agencies, nonprofits and veterans organizations have resources to help as well.
If you're ready to learn more … Read Part 1 of this two-part series to learn about the first 3 recommended actions for how veterans who are behind in saving for retirement can get on-track.
You can learn more insights for the veteran community in the Veterans Financial Preparedness Report 2019 as you get your financial preparations on-track for a secure retirement.